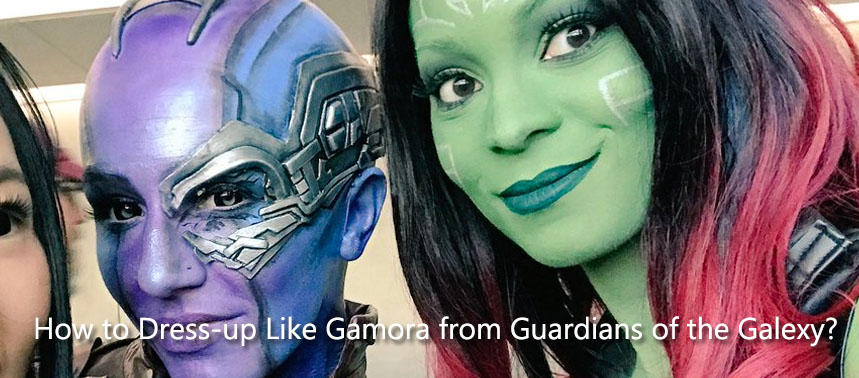 How to Dress-up Like Gamora from Guardians of the Galexy?
Zoe Saldana is an actress who always appears in challenging roles. She has turned Gamora's character into one of the most powerful and memorable Marvel Comic characters. She appeared as Gamora in Guardians of the Galaxy 1 and 2. She has got a stunning look because of her ombre hair and green skin. If you are planning to resemble Gamora in the cosplay, you must get the Gamora cosplay costumes first. It is her costume that makes her look pretty charming and dangerous. She is Thanos's adopted daughter and part of a team that protects the universe against all kinds of dark forces. That's why she has got a pretty unique superhero cosplay costume.
What do you need to resemble Gamora in the cosplay?
Gamora's costume involves several key elements. Let's take a look at the complete supercostume.
Gamora's hair looks pretty unique. You should get the wig if you cannot turn your hair into Gamora's colorful shiny hair. This wig can easily be available online or you can get it in any beauty store. However, you will have to make a perfect color combination.
Zoe Saldana spent five to six hours in the makeup room to get that green skin. There were some talented makeup artists to offer her that green look, but you can do it at home. Get the Gamora makeup set and start turning your face into Gamora's green face.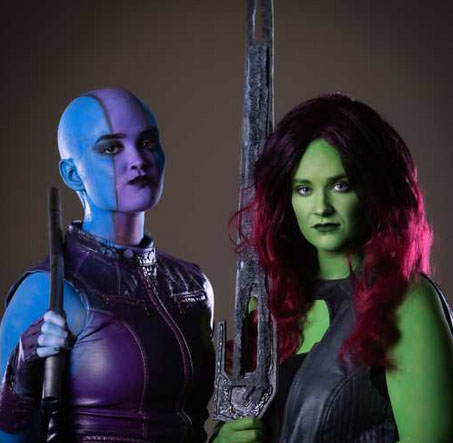 Of course, it would be tough for anyone to apply the green makeup throughout the body in order to look like Gamora. In fact, she did not paint her whole body because she was wearing a green body suit. You can also get that suit online. In order to get your physique in a perfect shape, either you can workout or try a body shapewear to look sexy and gorgeous like Gamora.
Put that black body corset tank below the jacket to gain a perfect shape of the body like the character. She has worn this corset tank in Guardians of the Galaxy Vol. 2 and she looked pretty appealing in it.
A lot of ladies want to try this coat. It was not available before, but the Gamora coat is available online now. Get it now to complete your Gamora cosplay costumes.
Just like other Marvel movie characters, Gamora has also got unique gloves that cover her arms. You must wear these fingerless gloves when resembling Gamora.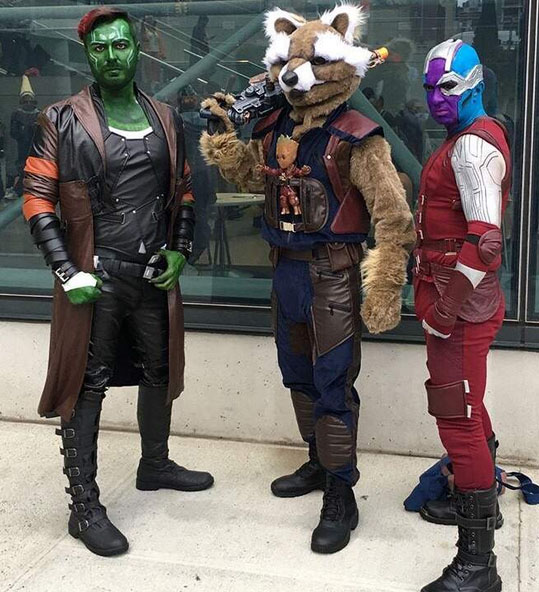 Gamora does not wear pants, but some sort of body suit that covers the bottom portion of her body. You can replace it with armored pants which are specifically designed for bikers.
She wears knee-high boots which look pretty fashionable too. Get a pair of Gamora boots to get dressed up completely like Gamora. These boots will also go with casual outfits.
In addition to the complete costume, you should also buy the Gamora Sword Blade that she always carries with her to destroy her enemies. Focus on these details and you will look like Gamora's replica from Guardians of the Galaxy franchise.